Equity Commitments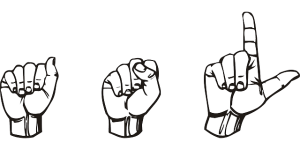 Watch the video above for an ASL translation of this letter.
[Image Description: An embedded YouTube video. The thumbnail shows HSDC Executive Director Lindsay Klarman: a light-skinned, feminine-presenting person with pulled-back blonde hair sitting in front of a camera and signing the word 'Equity'. On the left in blue boxes are the title, 'Equity Commitments', and the HSDC logo.]
---
Hearing, Speech & Deaf Center (HSDC) commits to implementing anti-racist and anti-audist practices based on recommendations from the HSDC Equity Team. We understand the work for Racial & Social Justice is never done and there are always opportunities to do more. It is our responsibility to do all we can to support BIPOC and people who are Deaf, DeafBlind, hard of hearing, and have speech diversity.
We will commence with these commitments immediately and begin with 11 intentional actions, with the help of outside experts from the BIPOC and Deaf communities.
COVID-19 Updates
Last updated October 26, 2020. For timely information about COVID-19, visit the Washington State coronavirus website or call 2-1-1.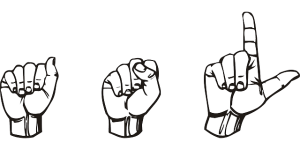 Click here to watch past COVID-19 update videos from HSDC in American Sign Language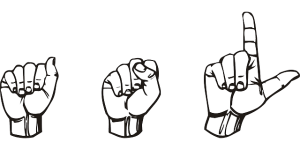 Click here for more American Sign Language information about COVID-19
Service Changes
All HSDC locations continue to practice online services. We have reopened in-person services for Deaf & Hard of Hearing Services and Audiology by appointment only. We are following Washington state and King County guidelines for Phase 2 allowance.
HSDC is committed to our community and we will continue to provide essential services remotely, in accordance with King County and Washington State public health recommendations. See the table below to find more details about each program's availability.
Audiology & Hearing Aids
Contact Info
All services are by appointment only. There are no walk-in services at this time. We are providing curbside and in-person appointments on Tuesdays and Wednesdays. Click here to read our new procedures for Audiology appointments and services.

We are currently developing a plan to expand our services following the closure. If you have questions about hearing aid supplies, you may contact us at 206-323-5770 or clinics@hsdc.org.

Deaf & Hard of Hearing Services
Contact Info
Videophone and phone appointments are available every day.

Contact us if you wish to schedule an in-person appointment. Please call or email your local office in Seattle, Tacoma, or Bellingham to discuss your needs. Click here to find which office you should call.

All public videophones locations are closed.

Current Hours for Deaf & Hard of Hearing Services
Seattle (Puget Sound)
Monday-Friday, 9am-5pm
Tacoma (Sound Sound)
Monday-Thursday, 9am-5pm
Bellingham (North Sound)
Monday-Friday, 9am-5pm

HSDC Interpreting Services
Request an Interpreter
Contact Info
Remote and in-person interpreting services are available.
Parent-Infant Program (PIP)
Contact Info
PIP is currently providing virtual home visits, and working with families to ensure that our services are accessible.

Enrolled families can contact their PIP Specialist with scheduling questions. If you are interested in joining PIP, you can email we encourage you to get in touch.

Rosen Family Preschool
Contact Info
Rosen Family Preschool is currently offering a combination of virtual services and in-person classroom time, with adjustments as necessary for the safety of our students and staff.

Enrollment remains open for the 2020-2021 school year. If you think your child may be a good fit, we encourage you to get in touch.

Rosen Family Preschool and the Parent-Infant Program are partnering to offer additional community outreach services to families with our new HSDC Family Room, which you can see by using the links below.

Speech & Language
Contact Info
We are providing a limited number of in-person therapy appointments on Tuesdays and Wednesdays only. Click here to read our new procedures for appointments. We will also continue to provide evaluation and therapy services online via telepractice.

For more information, contact your clinician directly. You can also contact the front desk at 206-388-1300 or clinics@hsdc.org.
More Information
The novel coronavirus is highly contagious. Symptoms include a cough, fever, shortness of breath, or other respiratory issues. If you are experiencing symptoms, please contact your physician and call the King County Novel Coronavirus hotline at 206-477-3977.
We care about the health of our clients, our staff, and the community, so we urge you to take all the precautions necessary to protect yourselves, including thorough handwashing; coughing into a tissue or your elbow; avoiding touching your eyes, nose, and mouth; and cleaning frequently touched surfaces.
Learn how to make a Deaf-friendly face mask
American Sign Language resources for COVID-19
News & Updates
Latest News
HSDC in the News
Who We Are
Hearing, Speech & Deaf Center (HSDC) is a nonprofit serving the Puget Sound area. Our mission is to foster inclusive and accessible communities through communication, advocacy, and education.
We offer services for people who are D/deaf, hard of hearing, or have speech-language differences, as well as their families and friends. We also offer trainings for organizations that wish to better serve D/deaf and hard of hearing community members.
Services We Provide
Hearing, Speech & Deaf Center offers a comprehensive array of services including, but not limited to, those listed below.
Latest Video
Check out the latest video from our Video Blog.