History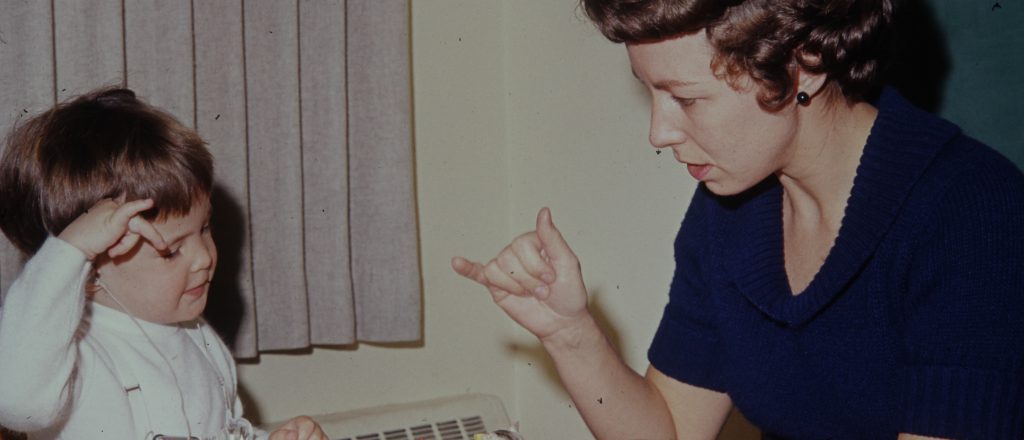 HSDC has been serving the Puget Sound area for 80 years, and family and community have been fundamental parts of the agency since the very beginning. Originally a partnership between mothers of children with hearing loss and a social club for hard of hearing women, HSDC was incorporated in 1937 as the Seattle Chapter for the Hard of Hearing. In the 1950s, our name changed to the Seattle Hearing and Speech Center, which remained the only independent nonprofit west of the Mississippi for children and adults with communication challenges until the mid-1960s.
Over the years, the HSDC began to incorporate more programs for the local Deaf community, who favored sign language over spoken language. During the 1960s and 70s, HSDC introduced what was, at the time, a controversial program that taught children with hearing loss American Sign Language (ASL).
By the 1980s, the Deaf community had become such an essential part of the agency's programming that our name was changed to Hearing, Speech & Deafness Center. In February 2016, we dropped the "ness" and became Hearing, Speech & Deaf Center to reaffirm our commitment to the local Deaf community.
Today, HSDC has a main office in Seattle and satellite offices in Bellingham and Tacoma. The majority of our clients are in King, Pierce, Snohomish, and Whatcom Counties, but we serve thirteen counties in total across Western Washington. Many of our services are offered for free or at reduced costs, allowing local individuals and families in need to receive high-quality communication access and care.
Leadership



Lindsay Klarman, MNPL, NIC-A

Executive Director




Ariele Belo

Director of Deaf & Hard of Hearing Services




Laura Ciotti

Director of Interpreting Services Operations




Michelle Coleman-Papineau

Operations Manager




Athina Maganzini, MS, CCC-SLP

Interim Director of Speech, Speech-Language Pathologist




Mihwa Kim

Director of Audiology




Renee Look, MNPL

Director of Development




Guthrie Nutter, MASL

Director of Education




David Webster, MBA

Director of Finance




Bart Williams

Director of Interpreting Services
Board of Directors
Matthew Aprecio
Ken Block, Vice President
Marisa Behnke, Vice President
Lyn Cameron
Rob Donovan, Treasurer
Laura Gramer
Melissa "echo" Greenlee
Colleen LaBelle, Vice President
Robert Leingang
Adrian KC Lee
Dave Lenox
Hannah Lidman
Roger Mauldin, Past President
Molly M. McCarthy
Michael Nesmith
Laurie Rosen-Ritt, Secretary
Miranda Rusler
Warren Weissman, President
Admin Staff



Lindsay Klarman, MNPL, NIC-A

Executive Director




Bryan Bullock

Facilities Manager




Michelle Coleman-Papineau

Operations Manager




Jason Eastman

Grants & Communications Manager




Buddy Elledge

Graphic Designer & Marketing Coordinator




Andrea Klarman

Executive Assistant




Don Lawrence

Accountant




Renee Look, MNPL

Director of Development




Sapana Patel

Corporate Relations & Events Manager




David Webster, MBA

Director of Finance